Harrier Cube Rattan Dining Sets 8/10 Seater 3x COLOURS Patio Furniture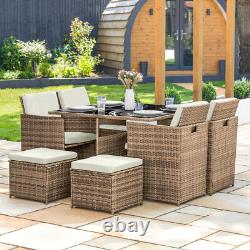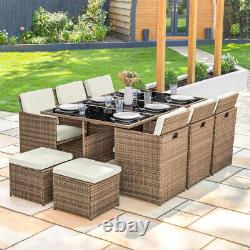 Harrier Cube Rattan Dining Sets [8/10 Seats] - NET WORLD SPORTS. Luxury rattan cube patio furniture set is an excellent option for outdoor dining with family & friends. Complete with a space saving design for compact storage.
Available in 3 colourways: Grey, Brown & Cream or Black & Grey. A premium option for all garden areas to comfortably seat 8-10 people. The table & chairs set is made using flat weave rattan which is weatherproof & UV resistant to prevent fading from direct sunlight. Thick padded cushions with soft polyester covers ensure maximum user comfort.
The sturdy tables include a tempered glass top for a sleek look which is easy to clean & scratch resistant. For space saving, the footstools fit underneath the seats which then tuck neatly under the table for compact storage when not in use. LOOKING AFTER YOUR GARDEN FURNITURE. To ensure your Harrier Garden Furniture Sets remain in pristine condition for a very long time, we recommend taking the following simple steps. Store sofa cushions indoors (where dry) - protects them against vermin when not in use. During periods of high winds, store entire product indoors to protect against damage. Using weatherproof covers will help keep your sofas/table clean & protected against weathering. Store your garden furniture set inside a garage/shed during the winter months - increased life span & prevents weather damage. PLEASE NOTE: For maximum use, we recommend storing all our Harrier Garden Furniture indoors when not in use & during winter months.
8 or 10 Seater - Grey Rattan with Grey Cushions. 8 or 10 Seater - Black Rattan with Grey Cushions.
8 or 10 Seater - Brown Rattan with Cream Cushions. Flat rattan with a woven finish. Thick polyester fabric cushions which are flame retardant. Outdoor Sofas are water, UV & weather resistant. Cushions are UV protected to prevent the colour fading. Compact & space saving design. Ergonomically designed for a comfortable experience. Cushions are independently tested to Furniture & Furnishing (Fire & Safety) Regulation. Material: 230g PU coated Oxford fabric. Improve furniture longevity using a water & UV resistant cover.
Designed to effortlessly cover the furniture in seconds. Drawstring fastening keeps it securely in place. PLEASE NOTE: Covers are an optional upgrade (add above). Net World Sports stock a complete range of Harrier Garden Equipment.